Upon arriving to Managua, we were greeted by Guillermo, our driver for the duration of our trip, holding a Cigar Vixen/Nica Travel tour sign. We all jumped in the micro bus, grabbed some ice cold Tona beer (native to Nicaragua) and lit up a smoke, taking in the lush green scenery and headed to our first stop…FOOD!
We pulled up in front of a restaurant which looked like something that should be on a postcard. Climbing the stairs, we stepped up to the open-air covered patio table with our cigars lit and enjoyed the appetizers that awaited us; queso frito (fried cheese), tostones (fried plantains) and mariquitas (skinny plantain chips) all with fresh salsa and chimichurri sauce. The concensous was to order the churrasco plate (grilled flank steak with chimichurri sauce) rice and beans with fresh salad.
Tummies full, we hopped into the micro bus with plenty of cigars and a full cooler of Tona for the drive out to Esteli. During our little over an hour drive, half of us took a nap, the other half filled up on beer and relaxed. We arrived to the infamous Drew Estate compound and were overwhelmed by the amazing layout. One of a kind artwork and the overall ambiance was breathtaking as we took a tour of the lounge, pool area, as well as our rooms and made our way up to the cigar lounge for some refreshements. On the table were several cigar boxes; Liga #9, Nica Rustica, Tabak Especial, KFC, and Undercrowns as well as Flor de Cana rum to sip.
After grabbing a few sticks, we all sat downstairs for our freshly prepared feast of steak, chicken, plantains and morro. We were joined by our Drew Estate host, Henry, who had great stories to entertain us. Following an amazing meal, Henry brought out dessert…a box a delicious L40s, my personal favorite.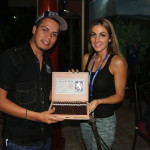 We spent the remainder of the evening smoking, drinking rum and testing out the Drew Estate pool.
Our day began the next morning around 8am with fresh Nicaraguan coffee, Tabak Especials and a gorgeous view of Esteli. Breakfast was served shortly after, again an amazing spread of scrambled eggs and ham, beans, rice, toast and fresh fruit with juice and coffee, as well as cigars. After relaxing for a few hours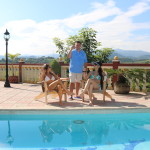 we made our way into the micro bus for an official tour of Esteli. We visited the local shops, and made a special stop at the museum where we received education on the history of Nicargua as well as the inspiritation behind the Nica Rustica. "El Brujito" as the natives call him, is an ancient shaman who used to perform ceremonies, celebrations and healing rituals with tobacco. The indigenous people of Esteli would bring him their best tobacco and he would burn the leaves as part of the ritual to honor the sun for all the blessings of their land.
Following the museum tour, we had our first official cigar factory visit at Joya de Nicaragua, the oldest cigar factory in Nicaragua. Juan Martinez, Executive President of the company gave us a very informative presentation on the foundation of Joya which began in 1968. It was extremely impressive to see how much the company has gone through and been able to still come out ahead and produce some wonderful cigars. Everything from government control, factory bombing and devastating hurricanes. All of which their employees have stood by and in some cases helped to rebuild the factory.
Our tour was lead by Mario Perez, Sales Director for JDN. He walked up through the ins and outs of the factory and really gave a thorough insight to how they make their cigars.
We ended the tour with some Flor de Cana rum, local dark chocolate from volcano region of Omnetepe. After enjoying the rum and chocolate with our cigars, we were given an opportunity to create our own blend of choice, which JDN was generous enough to send a bundle of freshly rolled cigars of our blends for each of us to take home. We had a great time enjoying their factory.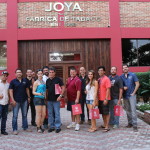 We headed back to Drew Estate just in time for dinner, cigars and more rum! This time our dessert was a box of Feral Flying pigs. We smoked, drank, played cards, swam and even made a late night "munchies" run into Esteli.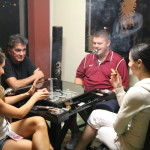 Amazingly the next morning we were all up by 8am to start the coffee, cigar and view ritual again. This time after breakfast we headed over to the pre-production side of DE factory where Henry made our tour interesting and very entertaining. We saw the massive amount of tobacco stored in their warehouse, the sorting process, fermentation pilones as well as the new cafeteria, and on site medical clinic for all employees of DE. It was really heartwarming to see how well Jonathan Drew takes care of his employees. He provides free transportation to and from work, a state of the art cafeteria, and free medical to all staff as well as their families. In all my travels I have never seen anyone who takes such great care of his people. I have to say we were all blown away by the generosity of Jonathan Drew.
We headed back to the compound for lunch where we were greeted by Jessy Flores, the mastermind and talent behind all the Drew Estate artwork you see. Jessy shared stories of how him and Jonathan met, and all the blood, sweat and tears that have gone into creating the Drew Estate we all know and love today. Afterwards Jessy gave us a super private tour of his new Subculture studio where he is able to let his creativity flow untamed. With respect to un-released products photography and video was limited so I can only say that there are some bitchin' pieces of functional art soon to come.
We relaxed and smoked a cigar before heading over to the second part of the DE factory tour. Henry took us into the rolling room where we learned the DE process for creating cigars as well as a peek into the special rolling room where the Liga and Nica Rustica wrappers are carefully handled. The factory was extremely massive, however maintained a comfortable and intimate feel. It was especially nice to see the workers smiling and welcoming us as we all walked through. What stood out to me the most was the storing rooms. There were several, all of which contained about 1 million sticks.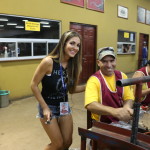 I felt a little nervous walking through knowing how precious this inventory is, especially after watching the meticulous process of creation. I never get tired of seeing the magic of creating the cigars we all love to smoke, it's truly amazing.
After walking the entire factory floor we were all pretty tired, so it was perfect timing when Henry took us into the large blending room to sit and have a glass of wine as he talked to us about the different regions of tobacco and their characteristics. There we were given our own portfolio of tobacco information, as well as an opportunity to burn the leaves to smell the aromas each let off before choosing our blends. Everyone in the group really enjoyed this hands on experience.
Before we knew it, the sun had gone down and it was time to return to safari for dinner. As always a fabulous spread of food for our tummies. We all decided that since it was our last night in Esteli we should go out on the town to celebrate, so we ventured over to Cigar Zone in Esteli for more cigars and rum.
Before leaving Drew Estate we said our teary goodbyes to Henry and all the staff, but not before receiving some awesome Drew Estate swag; a bag of "special" cigars, a box of As, individual personalized silkscreen t-shirts, DE logo stickers and a bundle of freshly rolled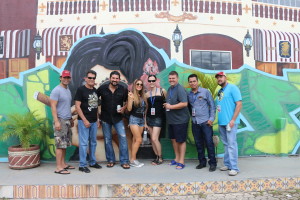 cigars of each of our blends. We left with heavy hearts and amazing memories.
Next up on our itinerary was a visit to Rocky Patel's factory and farm, also in Esteli. Greeted by Amilcar, master blender and supervisor at the factory, we received a tour of Rocky's place.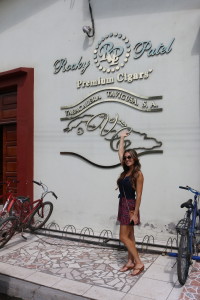 It was pretty awesome to see the newest cigar, Prohibition, being rolled and then packaged right in front of us. I always hear Rocky talk about quality control at his factories, but now I can actually vouch for him after seeing how careful and precise the quality really is inside the factory. The real treat however was visiting the farm where Rocky grows his tobacco. We came at a time when the seedlings and planting was just beginning so the tobacco in the ground was still very young, but to watch the process first hand was a great learning experience for the group. The farm was impressive and again, a very meticulous process from planting the seeds in the nursery to separating the weak plants and finally transferring them into the ground to grow into the beautiful plants we see photos of. Rocky's fermentation barn was also a neat experience as we had a chance to see, feel and smell the tobacco fresh from the pilones. Nothing is better than hands on experience, it helps to understand the process much better than just reading or seeing pictures of it. Last but not least we had some fun climbing in the massive curing barns as again, due to the time of our visit, the barns were empty. I have only ever seen the barns full, so seeing one empty really gave me a chance to see just how ridiculously large the inside of those barns are!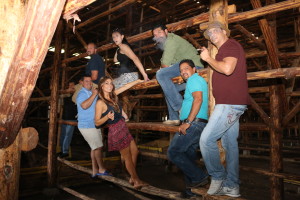 Before heading out to Chichigalpa for our rum tour, we had an amazing lunch out on the farm compliments of Rocky Patel, who spared no expense for our eating pleasure!
We arrived to Chichigalpa after about an hour and made our way through the Flor de Cana factory sipping 18 year and learning a few secrets of the rum trade.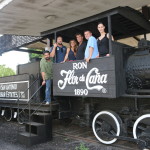 We were all anxious to check into our amazing beach house that was awaiting us in Rancho Santana. After a couple hours of riding in the micro bus, drinking and smoking cigars, we finally arrived! Adrenaline perked us way up as we all made our way throughout the spectacular house. Six bedrooms, circular pool over looking the ocean, hammocks, and a spacious open patio with a view that would satisfy even the most well versed traveler. It was absolute paradise. We spent the next morning lounging, smoking cigars, laying out, swimming and basically enjoying our lack of busy agenda. We feasted none the less, on a special breakfast prepared by yours truly along with the caretaker of the home, a local Nicaraguense.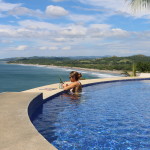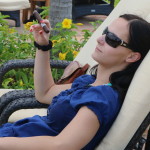 As a treat for the group, Santiago and Chris arranged private massages for everyone in cabanas on the beach. Afterwards we all had dinner at a local beach restaurant overlooking the ocean. We ended the evening with great conversation, great cigars and delicious rum.
The following day we ventured out to explore a few local beaches on foot.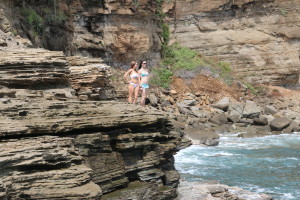 Walking through tide pools, light rain, sunshine and picturesque views of the Pacific Ocean. We bought fresh lobster from the local divers on the beach, swam, drank Tona and made our way to the beach town of Playa Gigante for a freshly caught Mahi Mahi lunch.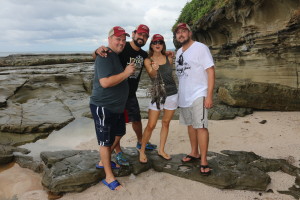 After awhile, we came back to the house and lounged as Chris, made his way into the kitchen to prepare a phenomenal lobster and fish dinner for our party.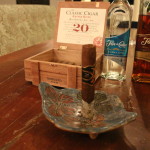 We were joined by the rest of the Nica crew, locals Mario, Pirata, Lolo and Britain who was from Texas! The party began with live music, more rum, singing and a lot of fun. Needless to say our last night went out with a bang!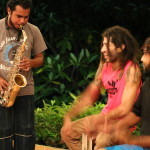 The next morning we filled our bellies once again with an amazing breakfast, this time at the Rancho Santana clubhouse, said our goodbyes to the beautiful beach, and sadly headed out to the airport.
Check out some of the videos from the factory tours below.
Be sure to reserve your spot and join us next year from November 9th-15th! Click here to put a deposit and reserve your spot. Book before Jan.31st for $250 discount. Enter VIXEN2015 promo code